WALLA WALLA DHARMA SANGHA
Dharma: Ultimate truth. Ultimate reality. The Buddha's teaching.
Sangha: The loving, supporting, spiritual community.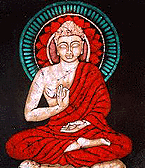 Meditation Retreats offered every 2-4 months by visiting teachers
In Walla Walla, we offer these opportunities for meditation practice:
<![if !supportLists]>· <![endif]>Weekly Silent group meditation (sitting and walking)
Sundays 7:00 pm – 8:00 pm at Many Waters Wellness Center, 820 Sprague Street
(see meditation format)
All events are free (donations gladly accepted)
2017 midyear report (July 2017)
For more information, please email: info@wwdharmasangha.org or write: P.O. Box 144 Walla Walla, WA 99362.
Useful Links:
Meditation and Yoga Classes in Walla Walla taught by Terri Cotts.
Mid-Columbia Insight Meditation
Walla Walla Dharma Sangha is a non-sectarian Buddhist spiritual community. By joining together we can support each other and expand our resources to bring teachers and events to the Walla Walla area.
Currently we offer group meditations weekly and day long retreats every other month.
Donations are gratefully accepted at the weekly sitting or by mail to P. O. Box 144 Walla Walla, WA 99362