MEDITATION RETREAT
Zen Meditation Retreat with Genjo Marinello Osho
From Choboji Zen Center, Seattle, WA
<![if !vml]>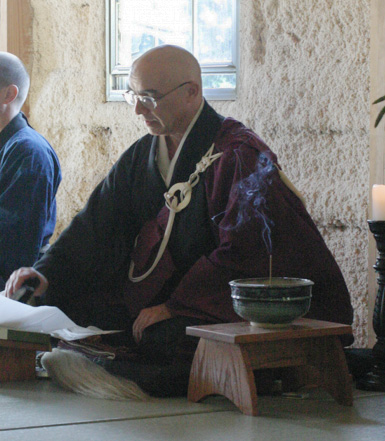 <![endif]>
Saturday, May 4th (2019) at Vista Hermosa Retreat House
Near Prescott , WA
Registration will open in late April.
To register for the retreat, email info@wwdharmasangha.org
The retreat will be held at the Vista Hermosa retreat center, about 30 miles north of Walla Walla, WA. The cost of attending the retreat is $15 per person, plus dana (donation) for the teacher. Participants should bring their own lunch, but there are complete kitchen facilities available. The retreat will be a daylong silent meditation retreat with sitting and walking meditation, a dharma talk and opportunities for discussion with the teacher.
It is suitable for beginning and more experienced practitioners. The retreat will begin at 9:00 am and end about 4:30 pm, with a break for lunch.
Directions to Vista Hermosa from Walla Walla: Head west on Main St .4 mi, Turn right at 2nd Ave 0.3 mi. Turn left at W Pine St 0.7 m. Turn right at 13th Ave (WA-125). Go past the penitentiary.
Continue to follow WA-125 2.6 mi. Turn left at Harvey Shaw Rd Continue for about 16 mi. toward WA highway 124 (about 20 minutes). (Harvey Shaw passes under Highway 124). Go under the overpass and bear to the right to get to Highway 124. Turn right on WA-124. Continue on WA-124 to Fish Hook Park Rd.
Turn right at Fish Hook Park Rd 0.9 mi. Turn right at Sara Lynne Ln 0.6 mi. Turn left at Coyote Loop Dr. and up the hill to the retreat center for 0.2 mi
Directions to Vista Hermosa from Pasco: Take U.S. Highway 182/12 eastbound towards Burbank and Walla Walla. After crossing the Snake River Bridge on Hwy 12, turn left on State Route 124. Continue on State Route 124 for about 16 miles, and then turn left, heading north, on Fishhook Park Road. Follow Fishhook Park Road for about 1 mile which will lead you to the entrance to the Vista Hermosa community.
Go past Gala Drive and turn right into the housing development on Sara Lynne Lane. Drive three short blocks until Sara Lynne intersects Coyote Loop Drive. At that point you'll see the retreat center, which is in a large house on a rise behind the housing development. Make a sharp left onto a gravel road to reach the retreat center.